Farmers Register
The mobile point-of-sale system that connects farmers with their customers and improves access to local, healthy, sustainably grown food.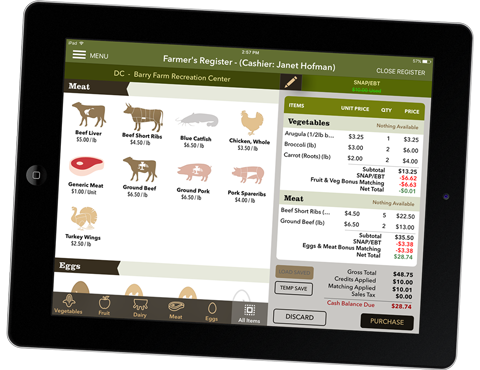 Overview
Farmers Register is a mobile point of sale system optimized for vendors selling directly to consumers at both traditional and mobile farmers markets. Farmers Register improves efficiency, speeds transactions, provides inventory management, and compiles highly desirable farmers market price and customer purchasing data.

Maximize the market experience
Farmers Register was built from the ground up to support mobile farmers markets and other direct-to-consumer sales

Take the guesswork out of your market operations
Our powerful point-of-sale / inventory tools and reporting keeps you on top of your your bottom line.

Help your customers by fighting food insecurity
Farmers Register accepts federal, state, and local food access incentives (such as SNAP) to bring fresh healthy food to everyone.
Point of Sale
Our iPad register provides farmers market cashiers with an easy-to-use, smartly designed point of sale system with advanced features such as email receipts, geocoded market locations, unique cashier PINs, and an incentive optimization algorithm that enables cashiers and shoppers to maximize available dollars from federal, state, and local food access programs (like SNAP / WIC / Double Up Food Bucks)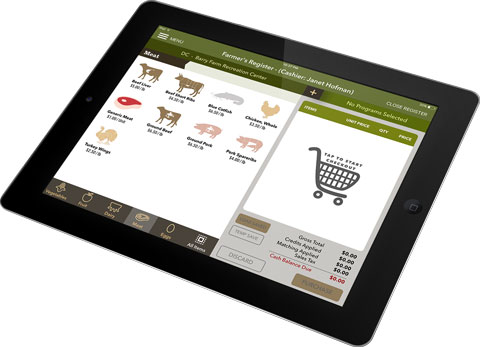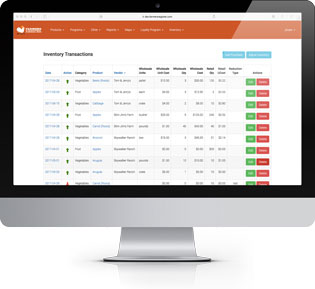 Inventory Management
Did a vendor drop a shipment off at market? Did you misplace that bushel of apples? Add and remove inventory in real time through our web interface to keep your on-hand quantities (and profitability reports) accurate. And don't worry – Farmers Register auto-decrements your inventory as it sells. It really is that easy!
Customer Loyalty Program
Direct to consumer sales can't happen without the consumer. Incentivize your customer base and stay in touch with Farmers Register Customer Loyalty Program. You can even configure rewards programs based on your customers' numbers of visits or dollars spent.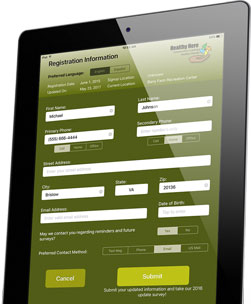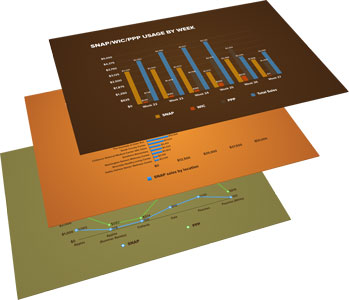 Robust Reporting
Farmers Register offers powerful tools to gain deep insights into the data you collect from every transaction. Want to track your most profitable products? Need to see which customers have been coming to market (and which have dropped off)? Curious to measure your top SNAP products between multiple locations and over differing time frames? Interested in tracking how much new business your kale-cooking demo brought in? Farmers Register does it all with a level of granularity unmatched by any other app on the market.
We're Growing
Join the increasing number of mobile farmers markets using Farmers Register to improve food access, combat food insecurity, and provide local, healthy, sustainably-grown foods to an ever-broadening customer base.
"In the nonprofit environment, data is king — and the Farmers Register is the coin of the realm. The Farmers Register is an elegant, seamless check out tool that allows Arcadia to track our customers' purchases, understand their buying behaviors, rapidly understand our finances, and provide a more transparent, efficient check out with individual benefits accruing to our customers. We have an especially complex point of sale transaction because we accept nine forms of tender."
– Pam Hess, Executive Director
The mobile point of sale system that Perigee Labs created is extremely user friendly and provides invaluable product, price and purchasing trend data. The user friendly apps have enabled our Mobile Farmers' Market to effectively accept all forms of payment including federal and state assistance programs. Not only are the apps and aggregated data found on the website useful, but the developers have wide expertise, are responsive and a joy to work with.
– Natalie Donnelly, Community Food Projects Coordinator
"Farmers Register is an efficient, visually appealing and productive POS application. With the addition of inventory tracking and expanded reporting, Farmers Register is beginning to reach into the backend management of the business. Farmers Register works very well for our "Eat Real Food" Mobile Market that serves 2-3 sites every day. In addition, it is so intuitive, that we can train new employees within minutes to utilize the application. I am looking forward to working with co-founders Randy and Jon as we continue to expand."
– Eric Ruth, CEO
Need a custom approach to support your direct-to-consumer sales technology needs? We can do it – ask us how!
We Want to Hear From You
Sign up to schedule a demo, get pricing, or simply to stay up-to-date on our latest happenings. Farmers market managers and food accessibility / sustainability advocates are specifically encouraged to get in touch.